What Is Balayage Hair And Why Is It So Popular?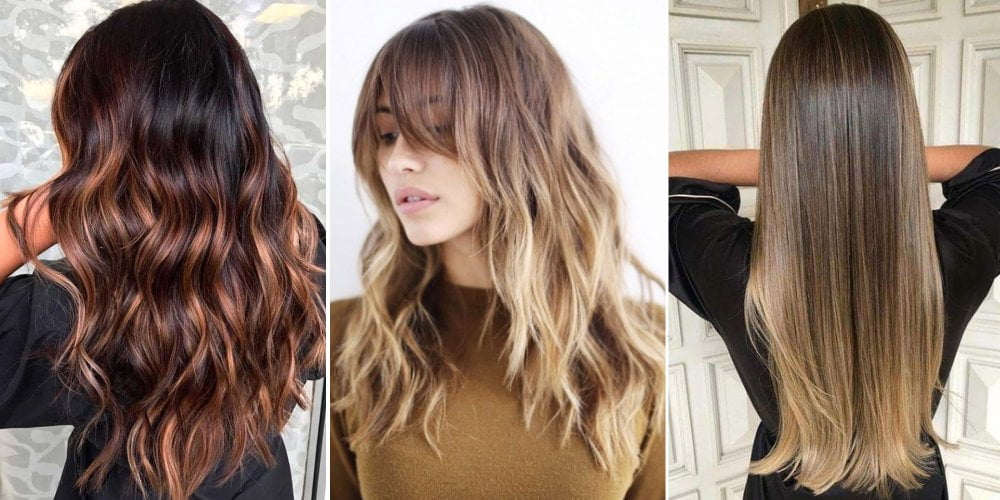 The terms "balayage" and "hair painting" are often used interchangeably in other salons, but they are not the same technique! In fact, in the U.S. what we mostly see is in fact hair painting as opposed to true French balayage.
What is Balayage
Balayage is a French word meaning 'to sweep' or 'to paint' and a freehand hair coloring technique that produces a really blended natural look with no harsh or obvious regrowth lines. It allows for a sun-kissed natural-looking hair color, similar to what nature gives us as children and with softer, less noticeable re-growth. The technique uses patches of light and shade to create multiple dimensions to the color. The principal idea being less is more when creating a natural, multi-tonal finish.
It's a great method if you want to refresh your color but don't want to go for a bold color overhaul.
How is balayage applied?
Balayage is painted on the surface of the hair strand and not saturated through the section until the very tips. This ensures a smooth, blended stroke of colour. It can also be called a freehand technique because no foil or meche are used to create the highlights.
How long does it take to do balayage?
The depth of balayage can vary so much from a few small highlights to a full on triple process look that can take up to 3 hours. Though it can take quite a long time to do a multi-tonal, layered balayage compared to regular color the benefit of the application means you will be able to go longer between your color appointments. If you want a few balayage babylights this may take as little as 45 minutes.
What sets it apart from traditional hair coloring?
Balayage is quite different from traditional highlights as no foil is used and the color is painted on freehand. The finished result is less uniform than typical highlights. If you've ever been worried about having stripey color after a visit to the hairdressers, balayage is a sure way to avoid that harsh contrast between colors – especially if you're going blonder.
The color created is totally bespoke to you and can even be placed in a way to compliment or distract attention away from certain features on the face.
Why has it become so popular recently?
Ten years ago balayage wasn't the coloring phenomenon it is today, it's quite a specific method of coloring that hasn't been widely taught in the U.S. until recently. Balayage is especially popular with celebrities and is a classic look for the red carpet. After spotting it on celebrities like Gisele, Chrissy Teigen and Jessica Alba, there has been a surge in interest for the technique as people are requesting the look.
Some celebrities who love balayage include Rosie Huntington-Whiteley, Olivia Palermo, Jessica Biel, Jennifer Lopez, Kim Kardashian and Amber Heard.
Does it require a lot of maintenance?
'Typically balayage requires far less maintenance than traditional color because it grows out beautifully and there are no strong regrowth lines. It also means you can wait for longer between appointments so it's 'the perfect technique for a modern, busy woman.
If you want to make your balayage last as long as possible, opt for a babylight – it's the most subtle type of color you can go for. Investing in some good quality color care styling products is also advisable to keep your color looking fresh for longer.
If your color turns brassy after a while you can refresh it without going for a full top up with a toner or gloss to give your shine back.
Is it suitable for all hair types/lengths?
It works on both light and dark hair depending on how much lighter you want to go and all hair textures. Whether it's straight, wavy or curly the color will still work well and look great.
Balayage works on all hair lengths apart from on very short or cropped hair (think Pixie crops). The technique is particularly popular amongst those with long, textured hair as it creates a beautiful, beachy style.
If however, you have balayage on your short hair – let's say a bob – and then want to try the long beach style, we offer a range of hair extension services, that will seamlessly blend in. These service includes a color-matching consultation, fitting, cut, wash & blow-dry and the extensions should last you up-to eight weeks, and the hair can be re-used up to three times.
How long does balayage last?
One of the biggest perks of this style is that 'it doesn't require as much upkeep as traditional color. The blended finish means you can lgo longer between your salon color appointments, and depending on the style you go for you can go up to four months between top-ups.
What's the difference between Balayage and Ombré?
Balayage is a highlighting technique while Ombré means to shadow, and it's a seamless gradation from darker to lighter. People do get confused by the two but you can also combine them in a merged technique which can be very pretty.
Sombré is a much softer version of ombré and is still popular, especially with the charcoal grey trend. For more on this read Balayage vs Ombré :: What's the Difference
What's the difference between Balayage and Highlights?
Balayage has softer, less noticeable regrowth lines than traditional highlights – the principal idea being less is more when creating soft, natural looks. There's no stripy look like you can get with foil highlights, Balayage emulates the parts of your hair that would naturally lighten in the sun.
Also, Balayage is a freehand technique as no foil or meche are used to create the highlights.
Breaking Down The Differences
| | | |
| --- | --- | --- |
| | FRENCH BALAYAGE |  HAIR PAINTING |
| Technique | "Sweeping" color across the surface of the hair ("balayage" is the French word for sweeping!), with lightener remaining on only the top surface of each section until the final inch of hair | Painting the hair with much heavier saturation, often applied underneath each section for maximum brightness |
| Section Width | Thin, ribbon-like sections | Wider plank sections |
| Placement | Precise and creative placement for unlimited possibilities | Creative placement |
| Lightener Choice | Thick, creamy consistency that will adhere to hair: L'Oréal Professional Blond Studio Multi-Techniques, Blond Studio Freehand Techniques, Blond Studio Platinum | Thinner consistency that assists with saturation: Majimèches, Blond Studio Sun-Kissed Lightening Oil or any of the lighteners used for balayage |
| Processing | Open air processing with cotton for neatness (may use plastic film as well) | Can use foils or meche for insulation and to encourage maximum lift |
| Results | Results are subtle, sun-kissed and lean warm (think a child's hair being lightened from the sun) | Results are varied—can be subtle or super dimensional, melted or ombré and can be cool-toned if enough lift is achieved |
| Levels of Lift | Up to 7 levels of lift can be expected | As high as your lightener will take the hair |
Why is balayage better?
Foil highlights are dying out – it's such an 80's look and certainly not something the modern woman wants. Look at most A-list celebs and you rarely see a classic foil highlight, you see Balayage and merged techniques like Ombre and Balayage, or Babylights and Balayage.
These techniques work with the individual's haircut and natural hair growth patterns as well as the variance of tones in the hair, for a totally bespoke finish. Because it's handpainted, your stylist/colorist can choose the placements to best complement your haircut, skin and features so it looks more natural rather than actually colored.
It's also super speedy, meaning you don't have to sit as long in the chair, and it grows out beautifully meaning less maintenance, so less frequent appointments.
Thinking About Balayage? Here are Some Questions to Ask Yourself?
"Do You Really Want Balayage?"
What are looking for and hoping to accomplish with your hair? That is what are you really asking for when considering booking an appointment for a balayage service? Usually we find that client's response fall into these descriptive categories:
Pale
Contrast
Neutral
Ash
What's the problem here? These are NOT results best achieved with traditional balayage. Again balayage is a technique, not an end result.
"Are You Willing To Make An Investment?"
Balayage is a more expensive service than a standard foil for a few reasons.
It's got a longer lifespan. Rather than touching up color every 4 to 6 weeks, balayage clients may choose to come back every 3 to 9 months.
It takes more time. The average balayage appointment takes up to three hours.
It uses more product. Balayage services cost stylists on average twice as much in chemicals.
It requires more education. Our professionals are required to attend intense professional training to learn the art of French balayage, requiring an investment of time and money. They are specialist and thus charge accordingly.
What should you do before getting Balayage?
1. Talk About It
I really passionately believe that consultation is an essential part of the color process – you should have a consultation with your stylist/colorist at least 48 hours before your appointment so that they can see you and current color, look and health of your hair.
2. Get Your Inspo Sorted
Take images in that you love to demonstrate what you're seeing in your head when you ask for balayage – either from a magazine or on your phone. Your stylist/colorist will be able to tell you if this look will suit your skin tone – there are so many great shades out there, some warm, some cool, but you need to get it right.
3. Find the Right Salon AND the Right Professional For You
Do your research before heading to the salon. Check out the Instagram page of your hair salon, every color should look different. If the application is the same for each client then it's not bespoke and unique to them – each client should have a customized application that works with their cut.
Does Balayage Work on Natural Textured Hair?
Balayage works on all textures, and in some ways curly hair is easier because you can pick out each curl you want to apply color to. The pre-lightener (bleach) or color choice is dependent on the finished look you want to achieve, not the texture.
Are there any hair colors that don't work with Balayage?
Balayage is a highlighting technique and can be used on any hair color.
Can you get Balayage if you have short hair?
Absolutely – with short hair it's just the same principles, application is dictated by the haircut and should always flow naturally.
Share The Beauty… Earn Rewards!
At PLEIJ Salon+Spa, we offer a simple and easy referral program to our existing clients (and even non-clients). When you refer a friend who is new to PLEIJ, we'll give them a 20% OFF GIFT to use towards any service. To say thanks, we'll give you a 10% OFF GIFT to use toward services or products!
Be sure to learn everything about this awesome program and even send out referrals.