Authentic. Classic. Fresh. Relevant. Kevyn Aucoin's books stand the test of time. Aucoin changed the world of beauty via three best-sellers full of his favorite makeup tricks and techniques. Aucoin's talent made him the most sought after makeup artist of his time — His heart is what continues to inspire and why Kevyn Aucoin remains influential to this day.
HIS PHILOSOPHY
Aucoin wanted women to feel beautiful and he generously shared his secrets with the hope that the people who read his books would find their own uniqueness. To Kevyn, each person in his chair was a palette of possibility—he wanted everyone to feel special in their own skin. "Every face tells a story, and to be a good makeup artist, designer, photographer, stylist, or hairdresser, I believe you must be able to 'read' the person before you."
HIS LEGACY
In Kevyn's mind, there was no right nor wrong when it came to makeup, only creativity, confidence, and kindness. This spirit lives on in the Kevyn Aucoin team today. Whether you're a beginner or a PRO, through his books and his artistry, Aucoin continues to encourage makeup artists to share with one another, push the limits of makeup, and believe in what they're doing.
[kswr_carouselslider crsl_speed="300″ crsl_autoplayspeed="5000″ crsl_desk_slidestoshow="4″ crsl_tablet_slidestoshow="2″ crsl_mobile_slidestoshow="1″ crsl_slides_margin="5″ crsl_arrows_style="style4″ crsl_arrows_size="35″ crsl_arrows_bgsize="35″ crsl_arrows_clr="#000000″ crsl_arrows_bgclr="" crsl_arrows_br_radius="5″ crsl_arrows_position="middletwo" crsl_tablet_breakpoint="995″ crsl_phone_breakpoint="550″ crsl_infinite="false" crsl_autoplay="false" crsl_adaptiveheight="true" crsl_centermode="false" crsl_container_margin="margin-top:0px;margin-bottom:0px;" crsl_dots_enable="false" crsl_arrows_enable="true"]
1979
Aucoin attends beauty school in his hometown of Lafayette, Louisiana.
1982
Aucoin moves to New York City to make his dreams come true.
1983
Aucoin's style and talent with makeup comes to the attention of Vogue Beauty Editor, Andrea Robinson.
1986
Aucoin does makeup for Cindy Crawford's first Vogue cover. He's catapulted into a new world of stardom.
1987–88
Aucoin joins Revlon's "Most Unforgettable Women In The World" campaign.
1991
The Supermodel Era—Aucoin is booked months in advance. He rules New York Fashion Week.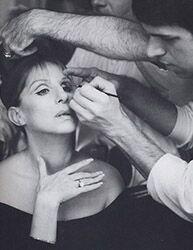 1993
Aucoin does the face of Barbara Streisand, his idol from a young age.
1994
Kevyn Aucoin publishes his first book, The Art of Makeup.
1995
German model, Nadja Auermann presents Aucoin with a special CFDA (Council of Fashion Designers of America) award for Excellence in Makeup Artistry. Aucoin is the only makeup artist to ever win this prestigious award.
1997
Aucoin publishes his second book, Making Faces.
1998
Aucoin reinvents Courtney Love's look for the Oscar's, the year she stars in the award winning "The People vs. Larry Flynt.
1999
Aucoin receives an honorary diploma from Harvey Milk High School in appreciation of his commitment to the Hetrick-Martin Institute, dedicated to the empowerment, education, and advocacy of LGBT youth.
2000
Aucoin publishes his third book, Face Forward. He did most of the photography.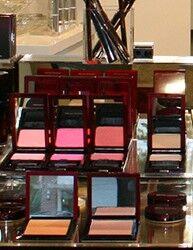 2001
Aucoin launches his namesake brand at Henri Bendel.
2002
Aucoin passes from Acromegaly, a rare growth disorder.
2017
Aucoin receives the Hetrick-Martin Award posthumously. It's the 20th year anniversary of his game-changing book, Making Faces.
[/kswr_carouselslider]