Microblading Gone Bad? How to Fade Your Brows Quickly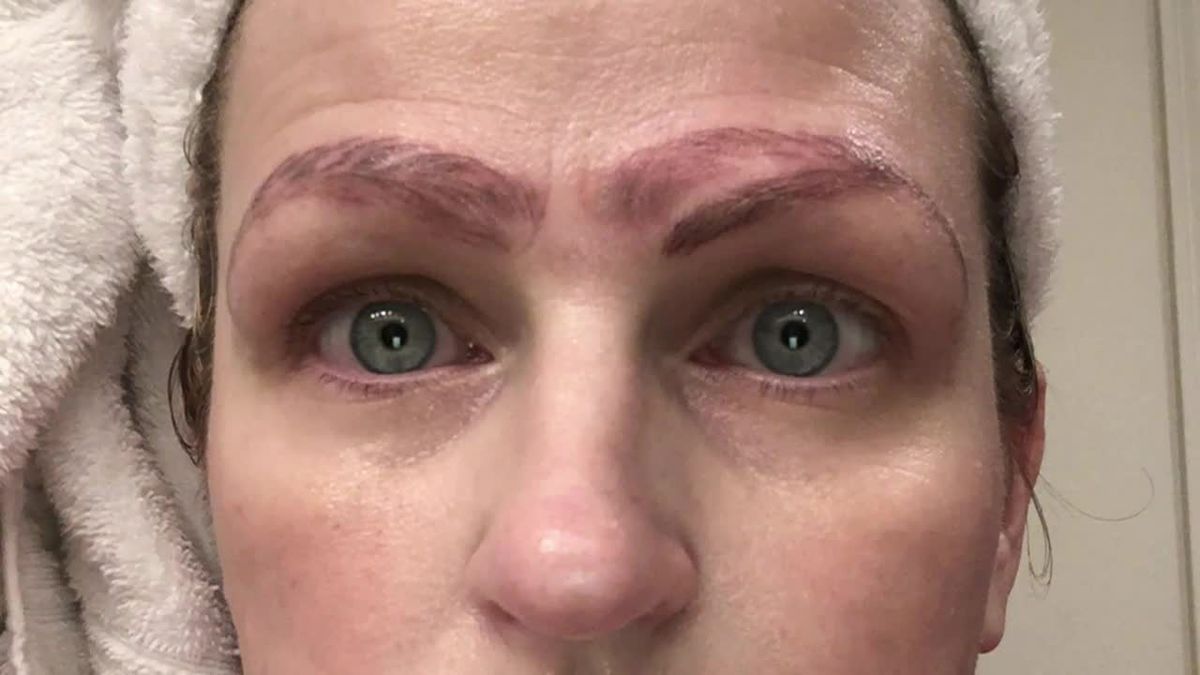 Good microblading work isn't cheap, and cheap microblading work isn't good.
One of the worst things you can do is select a Columbus microblading / nanoblading artist based exclusively on pricing! This is your face we are talking about and they are using a sharp blade and pigment to apply a semi-permanent eyebrow tattoo to your skin. Microblading, and the newest technique, nanoblading, are both complex procedures and ones which require extensive training, you want and need an experienced microblading / nanonblading expert with at least 3-4 years of experience. Check out their before an after photos as well as their online reviews and do not hesitate to speak directly with former clients.
Countless men and women have experienced poor results, or worse yet by going to inexperienced microbladers in the hopes of saving a little money, only to find themselves in a situation where they want to fade their brows as quickly as possible, before finding an experienced microblading professional to correct a microblading gone bad.
If you fall into that category and you are NOT happy with results of your brows after microblading you should know that there are several steps you can take to help fade your brows quickly.
Before you decide to fade your brows you need to ask yourself a few questions, to make sure that it is the right decision.
Are you happy with the shape of your brows? What about the style and/or size of the brows?
Are you worried your brows are too thick? Do you feel your brows don't fit your face?
Reason to fade your Microblading
If you're unhappy with the results of your microblading, you may feel the need to try and get back to your old brows as quickly as possible.
Before you get started you need to realize that there will be some NATURAL fading of your brows over time (usually in as little as a few weeks and before the Touch-Up / Perfecting Session).
The days and weeks after you get your brows done is the worst time to assess whether or not you like them as they will appear "thick" and "dark" after your initial microblading service. The thickness and darkness of your new brows will begin to fade, even before your Touch-Up / Perfecting session. So do not be alarmed, this is usually VERY normal!
Sometimes the shape of your brow may not compliment your face, or worse your brow artist may have made a mistake. If you've given them sufficient time to heal and fade and you're still experiencing significant distress regarding the size, shape, thickness or color of your brows (your artist failed to produce the brow design you requested), it may be worth an attempt to fade your brows quickly to get back to normal.
That said, before you do so it would be wise to consult your microblading artist as they may be able to fix your brows and the issues your are unhappy at the Touch-Up / Perfecting Session. If you've lost faith in your artist and feel they aren't capable, we would recommend doing your research, finding an alternative provider and getting a second opinion.
But if a few weeks have passed and you find you're not happy, or worse yet you REALLY hate your new brow and just want your natural brows back keep reading.
How to fade your brows after a botched microblading?
The microblading process deposits pigments into the dermis (not into the epidermis as so many inexperienced techs claim) and is a semi-permanent procedure, however, without intervention it will never disappear completely. Tattooing is permanent, whether it is on the body or face and this is why it is crucial to do your research on the experience and expertise of the artist before having any work done.
The epidermal layers of your skin naturally slough off over time and as they slough off they carry with them tiny amounts of the deposited microblading pigment.
If you left your brows alone (and didn't have the Microblading Touch-Up) they would naturally fade over the next 6-8 months.
So we can fade the brows quickly by focusing on therapies that increase the turnover of your skin cells and therapies that help draw pigment out of the skin.
6 Ways to Fade your Brows
Below you will find five methods and therapies you can use to help accelerate the lifting and removal of microblading pigments, and clear them from your skin more quickly.
When following these therapies remember one thing − Be gentle to your skin!
We recommend that you avoid invasive procedures such as laser tattoo removal or deep skin peels unless absolutely necessary. While these will work quickly, they also carry the risk of permanent skin damage.
It typically isn't worth the risk as you can fade your brows over the course of a few weeks to months by following the procedures below.
1. Don't Follow After Care Instructions
The number one rule for maintaining and extending your microblading results is to follow the aftercare instructions to the "T".
Which means that if you want to fade your brows you should break all of the after care instructions.
Go ahead and gently cleanse your brows each morning and night (with a gentle cleanser such as Environ Mild Cleansing Lotion). You will still need to take care when touching your brows as you don't want to increase your risk of infection through excessive contact. The microblading procedure does result in some minor (yet reversible) damage to the skin so make sure you still respect the healing process.
As your brows begin to heal, you can begin using exfoliants (a daily micro-exfoliant like Environ Hydrating Clay Masque is a good option) and AHA's (such as Environ Concentrated Alpha Hydroxy Toner) into your skin care routine.
2. Sweat & Exercise
The next step is to make sure that you sweat, sweat, sweat!
Sweating will help act as a dissolving agent for the pigment in the skin, and to liberate pigment from the skin and draw it to the surface for removal.
When we say sweating, we mean dripping sweat. This means that you CAN and SHOULD exercise, especially using high intensity work outs. Work yourself up until you're dripping with sweat and do so at least 3x per week.
Combine the sweating with the gentle cleansing above both morning and night.
3. Sauna (preferably FAR IR sauna)
Using a sauna is an easy way to work up a sweat (without exercise) and help detox the body, as well as liberating microblading pigments.
Using a FAR Infrared sauna will bring you to a deep sweat within 15-20 minutes and it is very effective at helping heal the body and push out the pigment from microblading.
If you don't have access to a FAR IR sauna you can also just use a regular hot box at your local gym.
Use a sauna up to 3x per week for at least 20 minutes or until you are dripping with sweat.
4. Microdermabrasion & Facials
If you are serious about getting the pigment out then you can also try more advanced exfoliative procedures designed to increase cellular turn over.
Professional procedures such as microdermabrasion and facials with cleansers can help exfoliate the upper layers of the skin and help the body naturally get rid of the pigment.
You may need several sessions of microdermabrasion but you should notice a definite "lightening" after each and every session.
This should only be necessary for 1-2 months before your brows fade to a level that is nearly noticeable (except to you).
5. Exfoliating Facial Products
Beyond gentle cleansers you can also use certain chemicals to help speed up the cellular turnover of the skin naturally. Retinol, otherwise known as vitamin A, can dramatically speed up this turnover time.
It normally takes your skin up to 60 days to "slough" off before a new set of skin cells replaces the old cells. Using retinol can speed up this process and cause your body to slough off old skin every 20-25 days instead of every 55-60 days.
Daily use of retinol also makes the skin "thinner" which is one of the reasons that you should NOT use it prior to getting microblading done. If your skin is thinner then it's easier for the pigment to go deeper into the skin.
With retinol the key is to start low and go slow, and we recommend Environ Vita-Antioxidant AVST Moisturizer 1 to start.
6. Don't get Your Touch-Up
The Touch-Up is designed to perfect your brow design, but also to increase the longevity of your brows, so you want to fade your brows quickly, skip the Touch-Up.
Wrapping it up
Want to fade your brows quickly? Here is what you need to do:
DON'T follow the aftercare instructions
Exercise 3x per week until you are dripping with sweat
Use a sauna if you don't want to exercise that intently (at least 3x per week)
Cleanse your skin morning and night with a gentle cleanser
Apply retinol serum in the evening to increase cellular turnover
Get microdermabrasion or facials if you prefer
DON'T get the touch up!
In addition, to fading bad microblading, if you have sufficient brow hair you can also cover it with Brow Lamination. Brow lamination, also called brow sculpt or brow lift, is essentially a perm for your eyebrows without the harsh chemicals. This treatment is used to solve messy brow issues, create volume and fullness, while giving you a sleek well-kept brow shape for up to 2 months. Clients love the treatment because it can extend brows by up to a third, and thus it serves as "an instant brow lift" because of the way it defines and lifts brows.
View our Microblading Before & After Photos